Custom Hors D'Oeuvres
Create Your Own Menu
Create your own Hors D'Oeuvre buffet from our huge selection
Create Your Own Menu
First Choice Catering has the most extensive hors d'oeuvre menu of any caterer in the Mid-South. Almost 250 items for your custom made hors d'oeuvre buffet. A la Carte pricing available at end of menu for those not selecting a package.
Choose any combination of 4 items – $14.00
Choose any combination of 5 items – $17.50
Choose any combination of 6 items – $21.00
Choose any combination of 7 items – $24.00
Choose any combination of 8 items – $27.00
Choose any combination of 9 items – $30.00
For ten items or more – Call for pricing
Items with Upcharges are indicated on the Menu. Some items require a quote
For additional items ask for special pricing. A Service Charge of 20% or a minimum of $350.00, whichever is greater, is added to all food and beverage pricing as well as local and State sales tax.
All Pricing Includes High Grade Disposable Dinnerware and Cutlery, Buffet Set-up, Buffet Skirting, Buffet Linens, Chaffers, Sterno, Serving Utensils, Decorative Platters and Display Pieces.
Pricing does not include any "caterers fee" that may possibly be charged by the venue of your choice. You should check with your venue and see if this fee is applicable.
Our Customers Top 20 Picks in 2019
Cascading Fruit Display or Fruit Skewers
Coconut Chicken Tenders
Traditional Chicken Tenders with Dipping Sauces
Meatballs (Hawaiian, BBQ, Traditional, Swedish, Italian)
Rendezvous Style Cheese, Sausage and Cracker Display or Rendezvous Skewers
Bruschetta
Artichoke and Spinach Dip with Crostini's or Chips
5 Platter Marinated Vegetable Display
Petite Sandwiches (Chicken Salad, Beef Brisket, Pimento, Assorted Deli Meats)
Memphis BBQ Sliders (Pulled pork or chicken)
Shrimp and Grits
Smoked Salmon Display
Hot Wings (Dry and wet)
Buffalo Chicken Dip
Cascading Salad Display with Condiments and Dressings
Catfish and Hushpuppies with Condiments
Hamburger Sliders
Vegetable or Pork Spring Rolls with Sauces
Pork Loin with Apple Compote and Rolls
Chef's Choice Assorted Petite Desserts
Our Customers Most Requested Stations in 2019
Shrimp and Grits
Our Award Winning BBQ-Tini
Taco Bar
Pasta Station
Potato Bar
Fruits
Cascading Diced Fruit Display
Skewered Fruit Kabobs
Sliced Fruit Display
Marinated Fruit in a Bowl
Marshmallow Fruit Salad
Pineapple Fruit Salad
Grilled and Glazed Pineapple Skewers
Chocolate Dipped Strawberries – Add $1.00 per
Seasonal Fruit Display with Chocolate Dip
Watermelon Sickles
Watermelon Basket with Seasonal Fruits – Additional Fees Apply
Cheese, Dips, Spreads and Dippers
All dips served with your choice of corn chips, tortillas, bruschetta, and crostini's or pita chips
Domestic Cheese and Cracker Display
Imported Cheese and Cracker Display (ask for pricing)
Cheese, Fruit and Cracker Combination – Add $1.50 per person
Rendezvous Style Cheese, Sausage and Cracker Display
Rendezvous Style Cheese and Sausage Skewers with Olives
Salsa and Chips
Mango Salsa with Cilantro
Rotel Cheese Dip
Creamy Avocado Lime Dip
Baked Artichoke and Parmesan Dip
Roasted Red Pepper, Sun Dried Tomato and Basil Spread
Crawfish Dip – Add $1.00 per person
Crab Dip – Add $1.50 per person
Hot Onion Dip
Fig and Kalamata Olive Tapenade
Fire Roasted Corn and Sweet Pepper Salsa
Sweet Jalapeno Cheese Spread
Mango Salsa with Cilantro
Shanghai Shrimp Dip – Add $1.00 per person
Smoked Catfish Pate
Southwestern Dip
Mexican Tamale Dip
Hot Spinach Dip
Humus with Roasted Red Peppers
Wraps and Rolls
Ham and Dijon Mustard Mini Croissants
Spinach and Smoked Salmon Herbed Cream Cheese Roulade
Pork Empanadas
Shrimp and Herb Rice Paper Rolls with Peanut Hoisin Dipping Sauce
Cucumber Nori Sushi Rolls with Sauces
Smoked Salmon Sushi Rice Balls
Pork Wontons with Soy dipping Sauce
Texan Red Bean Wraps with Cilantro Cream
Rolled Smoked Ham Crepes with Tarragon and Mustard Cream Sauce
Wrapped Roasted Asparagus with Red Pepper Aioli
Vegetable Spring Rolls
Pork Fried Egg Rolls
BBQ Egg Rolls
Catfish Egg Rolls
Small Bites
Pick Up Cocktail Appetizers
Chorizo Sausage Puffs
Sun Dried Tomato Pest Palmier (elephant ears)
Honey Mustard and Prosciutto Palmier
Wild Rice and Scallion Pancakes with Avocado Lime Salsa
Parmesan Shortbread Rounds with Roasted Tomatoes, Feta and Rosemary
Herbed Pancaked with Caramelized Bacon
Our AWARD WINNING Caramelized Bacon
Spicy Shrimp Crostini
Smoked Salmon Crostini
Smoked Catfish Pate Crostini
Dill Scones with Smoked Trout and Horseradish Cream Sauce
Mini Potato Pancakes with Sour Cream and Apple Sauce
Our AWARD WINNING Edible Spoon Collection – Ask for Details
Polenta Crostini with Blue Cheese and Balsamic Red Onions
Polenta Crostini with Tomato and Black Olive Salsa
Tostadas with Roast Corn Salsa
Gingered Chicken Cakes with Cilantro Lime Tartar Sauce
Cocktail Salmon and Dill Cakes with Crème Fraiche Tartare
Mini Deviled Crab Cakes with Tomato Remoulade
Filo Tartlets with Bang-Bang Chicken
Filo Tartlets with Smoked Salmon, Cracked Pepper and Lime
Filo Tartlets with Smoked Chicken and Tangy BBQ Sauce
Filo Tartlets with Spicy Cilantro Shrimp
Filo Tartlets with Asian Beef Salad
Filo Tartlets with Crab, Ginger and Lime – $Add $1.00 per person
Vegetables
Fresh Vegetable Crudités with Dip
Cascading Vegetable Display with Dip – Add .50 per person
Grilled Asparagus Display with Lemon Sauce
Grilled Vegetable Kabobs
Marinated Mushrooms in Garlic Butter Sauce
Haricot Vert Green Beans with Feta Cheese and Balsamic Vinaigrette
5 Platter Grilled and Marinated Vegetable Display – Add $1.50 per person
Spinach Stuffed Mushrooms
Smoked Salmon Stuffed Cucumbers – Add $1.00 per person
Prosciutto Wrapped Asparagus with Red Pepper Aioli – Add $1.00 per person
Fried Vegetable Spring Rolls with Sweet and Sour Sauce
Sticks and Skewers
Add $1.00 upcharge for all skewered items
Prosciutto Wrapped Scallops brochettes with Sauce Béarnaise
Tang Thai Shrimp Skewers
Barbecued Tandoori Shrimp Sticks
Lemon Chili Shrimp Sticks
Snow Pea Wrapped Shrimp Skewers with Lemon Cream Sauce
Lime Marinated Chicken Skewers with Avocado Cream Sauce
Spicy Chicken Satay Sticks
Sesame Soy Glazed Beef Skewers
Mini Chicken Kabobs
Mini Beef Kabobs
Mint Marinated Lamb Kabobs with Honey Dip
Ginger Orange Pork Skewers
Tropical Fruit Skewers with Mascarpone Dip
Bacon Wrapped Apricot Skewers
Grilled Vegetable Skewers
Bacon Wrapped Fig Skewers
Lemon Marinated Tortellini and Sun Dried Tomato Skewers
Basil Marinated Mozzarella and Cherry Tomato Skewers
Beef Hors D'Oeuvres
Roast Beef on Petite Rolls
Shaved Roast Beef Plater with Rolls
Sliced Texas Beef Brisket on Petite Rolls
Southwestern Stuffed Mushrooms
Swedish Meatballs
Hawaiian Meatballs
BBQ Meatballs
Italian Meatballs
Traditional Meatballs
Miniature Hamburgers with Pickles, Mustard and Ketchup
Miniature Beef Wellingtons – Add $1.00 per person
Fried Ravioli with Marinara Sauce
Chicken Hors D'Oeuvres
Chicken Salad on Petite Rolls
Chicken Salad display with Crackers
Chicken Salad in Phyllo Tartlets
Southern Fried Chicken Tenders with Dipping Sauce
Coconut Chicken Tenders
Buffalo Chicken Tenders
Grilled Chicken Tenders with Dipping Sauce
Chicken Brochette with Pineapple
Roasted Chicken Drummies
Caribbean Jerk Wings
Buffalo Wings (Wet or Dry)
Chicken Satay
Filo Tartlets with Bang-Bang Chicken
Pork Hors D'Oeuvres
Pork Egg Rolls with Dipping Sauce
Memphis Style Pulled Pork BBQ Sliders
Spicy Pork Stuffed Mushrooms
Sausage Stuffed Mushrooms
Honey Sesame Glazed Cocktail Skewers
Our AWARD WINNING Caramelized Bacon
Garlic Roasted Pork Loin with Apple Compote and Petite Rolls
Spiral Ham
Ham and Biscuits with Preserves
Sausage and Biscuits with Stone Ground Mustard
Miniature Tacos with Carnitas
Fish and Seafood Hors D'Oeuvres
Mississippi Pond Raised Catfish Fillets with Hushpuppies and Tartar Sauce
Catfish Egg Rolls
Catfish Gumbo Martini – Add $1.00 per person
Petite Seafood Cakes with Tartar Sauce
Miniature Tuna Burgers with Wasabi Mayonnaise Sauce – Add $1.00 per person
Light Lemony Salmon Mouse Puffs
Smoked Salmon with Cream Cheese and Capers – Add $1.25 per person
Assorted Fresh Sushi Platters Available – Ask for Pricing
Seared Scallops on Edible Oriental Spoon – Add $1.00 per person
Classic Shrimp Cocktail Puffs with Lemon Cream Sauce or Cocktail Sauce
Bacon Wrapped Shrimp – Add $2.00 per person
Shrimp Cocktail 4 piece per person average – Add $1.00 per person
Shrimp and Grits Shooters
Baby Bagels with Cream Cheese, Lox and dill
Salads and Soups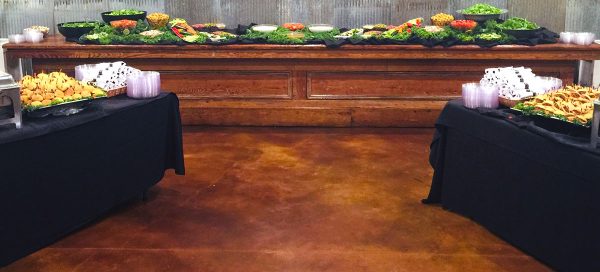 Cascading Salad Display with Condiments and Dressings
Tri-Colored Pasta Salad
Miniature Caesar Salad Croustades
Caesar Salad display
Deviled Eggs
Cucumber and Tomato Salad
Capresse Salad Display with Balsamic Vinaigrette
Salad Shooters
Gazpacho Shooters
Shrimp Gumbo Martini – Add $1.50 per person
Action Stations and Food Stations – Ask for Pricing and Details
Our AWARD WINNING Shrimp and Grits Station or Martini Bar
Basic Mashed Potato Bar – Russet Mashed, Sweet Potato and Toppings
Deluxe Mashed Potato Bar – Included Beef or Chicken Coq Au Vin and Toppings
Basic Pasta Station includes One Pasta, One Sauce, and One Topping
Deluxe Pasta Station includes 2 Pastas, 2 Sauces, 2 Toppings
Super Pasta Station includes Acton Chef, 3 Pastas, 3 Sauces, 3 Toppings
Our AWARD WINNING Bar-B-Que Tini
Basic Taco Bar – Beef and Chicken Tacos with Condiments
Deluxe Taco Bar – Beef, Chicken and Carnitas Tacos with Sides and Condiments
Basic Pizzeria Station includes Chef's Choice Pizza Variety
Deluxe Pizzeria includes Chef's Choice Variety Pizzas, Breadsticks, Italian Salad
Carving Stations
Pricing intended for Hors D'Oeuvre Buffets Only with 4 or More Items (Not Dinner Buffets). Pricing per Person. Add $100 for Carving Chef.
Inside Round of Beef with Rolls, Horseradish Sauce and Au Jus – Add $7.00
Slow Roasted Turkey Breast with Giblet Gravy, Cranberry Sauce and Rolls – Add $4.00
Garlic and Rosemary Roasted Pork Loin with Apple Compote and Rolls – Add $4.00
Prime Rib with Au Jus, Horseradish Sauce and Rolls – $9.00
Beef Tenderloin with Au Jus and Horseradish Sauce, Rolls – Add $12.00
Spiral Cut Ham with Sauce and Rolls – Add $4.00
Sweets
Fresh Baked Cookie Assortment (Oatmeal/Raisin, Chocolate Chip, Heath Bar, Sugar)
Assorted Petite Desserts
Miniature Cheese Cakes
Chocolate Covered Strawberries – Add .50
Assorted Petit Fours – Add $1.00 per person
Chef's Choice Petite Desserts Variety
Beverage Service
Punch, Tea and Water
Assorted Soft Drinks – Add 1.25 per person
Coffee and Condiments – $20 per gallon